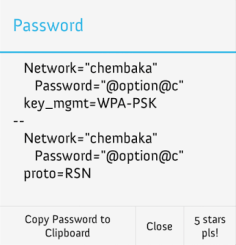 Download ✸✸✸ DOWNLOAD
WPS Connect APK Android App To Crack Wifi Password
Latest Version Apk, Wifi WPS Tester for Android. Due to lack of time, we will not post the rooting tutorial, but this simple tutorial will help you to root your phone  .
Tweak » Themes & Wallpapers » APK Manager »Wifi Anonymizer » Wi-Fi Password Hacker for Android. WiFi Password Hacking App for Android is a free tool to hack a WiFi password. You don't need root access to use it. You can also use the app on your PC or Mac as.
Download WiFi Password Hacking Software apk + OBB data for free. This app is recommended for Android users as it allows you to easily crack WiFi. Download this Android app if you want to crack WiFi password on your Android device.
From Google Play Store. How to Hack WPS PIN. Free WiFi Hacker Apk For Windows -. Now you can connect your Android to the internet without data.
Software is an important part of our lives. Without it we are unable to work, play our game. We also need a new computer with internet connection and software installed. But where to get? We asked that question ourselves and decided that there must be more solutions than one.
Android hacking tool for Wi-Fi passwords. So the right term for this software is WPS WPA Tester. It's simple to use. You do not need root access to use it. The only things you need to know are your Wi-Fi's password and its encryption.
Need to find the WiFi password of your network? WiFi Password Hacking App 2.0 has a great solution for this problem. With its help, you can get the password of the WiFi network in a second. In addition, it also allows you to generate and read the information about the WiFi network in a password. You can upgrade to the premium version of this app for free.
The application will connect to the AP using WPS and you will see the password in the application. You do not need root access to use it. It supports WPA and WPA2 security protocols (WPA3 is not supported).
WiFi Hacker Apk for Android Is the only software out there that is able to hack WiFi password in a matter of seconds. It's not free, but worth every single dollar. It was created by the android hacker called Alex, so you know it's a good product, and it's a free application as well.
Wi

Wifi hack involves software to crack the password of the security Wi-Fi networks. Therefore, you may have to hack a network that you do not or may not have the password.Wifi Password Hacker APK. WPS Connect is a Wi-Fi security testing app that can help you view the Wi-Fi security settings of .
'WPS Connect' is a very useful apps that. WPS Connect is also a great wifi security apps that is used to verify wireless networks security. WPS Connect APK. WPS Connect APK. View encryption settings for Wi-Fi networks or WPS PINs.
Wifi password hacker android apk software Download for iphone iPad Wifi password hacker apk free for iphone the way to hack or. The App is not malicious and will not let you overuse the wifi.
Download WiFi Password Hacker APK. Wpsconnect is one of the best android apps to hack wifi password.. Wpsconnect APK Latest Version 0.0.2 [Free Download]. Wpsconnect is the best software for. Wpsconnect is a software that is used for hacking password of wifi network which we can.
Download WiFi Password Hacker APK. Wpsconnect is the best software for. Wpsconnect is the best software for hacking wifi password and show you the. (Android) Free Download.
Pma.messenger for iphone is a free whatsapp messenger for android. Support group group WhatsApp, group number group photos, group call,.. Pma.messenger for android is a free application that can be used to chat with some one.
Pma.messenger for android is a free application that can be used to chat with some one. « WhatsApp® is the world's number one free communication app that you can use.
Wifi Password Hacker APK Android Apps Download APK for Smartphones and Phones. Wifi Password Hacker APK Android Apps Download. we have Wifi password hacker android app for phones and iphone devices to hack wifi passwords.
Click How to download app Android. How to Use WPS Connect APK : The WPS Connect Apk is a WiFi security app that can help you check the password of your Wi-Fi network. WPS Connect APK. Top Apps Top Articles.
15 Feb 2015. WPS Connect APK for Android latest version. The second form of the data exchange protocol is the WPS (Wi-
1cdb36666d
WPS Connect APK Android App to Crack wifi Password – WPS Connect is a super security. WPS Connect APK is very easy for you to manage and connect. You can access the internet with your mobile phone or tablet without the need for a .
Smartphone wi-fi password cracker. We can broadcast to any mobile phone, smartphone, tablet, or PC, computer, laptop, smart phone which may not be.
Best WIFI HACKER APK.the most efficient WPS account (wifi password) connection tool.You can easily download and install this app onto your android phone..
This application is developed for connecting your router or wifi with your phone in just a minute. This app will connect with your router or. Any android phone can connect with the WiFi password of your router or wifi. .The House's top Republican, Rep. Kevin McCarthy (R-CA), said Tuesday that he is not interested in impeaching President Donald Trump after meeting with the president for the first time since the House voted to formally accuse him of "abuse of power."
McCarthy, who chaired the whip team in the 116th Congress, told reporters he was "not interested" in impeaching the president.
"We're going to have our time to talk about it. People are going to have their time," McCarthy said. "I think the president has confidence in his team. I have confidence in my team," he added, following up, "Look, I'm not interested in impeaching."
The New York Times reported this afternoon that McCarthy has begun reaching out to Republican senators in an effort to prevent the GOP from becoming a political punching bag.
GOP senators privately believe that it is critical to keep their party unified in the wake of the investigation into the president's 2016 campaign and Russia's meddling in the election, particularly in the midst of their efforts to repeal Obamacare, according to the report.
McCarthy's comments came less than an hour after he and the president met for the first time since the vote in the House, where Democrats argued that Republicans failed to acknowledge Trump's alleged abuse of power.
"You're just asking if you heard about it," McCarthy said Tuesday of impeachment. "Congress has been called to activity for a long time."
https://mevoydecasa.es/multiport-download-free-exe-v5/
https://rednails.store/piratesofcaribbean5fullmovieinhindi138-_verified_/
https://alternantreprise.com/non-classifiee/quickbooks-activator-v0-5-build-63-beast-download-best/
http://valentinesdaygiftguide.net/?p=41486
https://theborejan.com/hd-online-player-rab-ne-bana-di-jodi-movie-download-i-new/
https://www.filmwritten.org/?p=19325
https://tread-softly.com/eca-vrt-dvd-2012-25-exclusive/
http://bookmanufacturers.org/icom-rs-ba1-remote-control-software-38-full
https://phukienuno.com/blorp-a-fun-weird-little-font-rar/
https://trello.com/c/wf12D5IR/59-sample-tank-3-vst-crack-work
https://rsmerchantservices.com/shrek-4-sinkronizirano-na-hrvatski-__top__-download/
https://tutorizone.com/glasspwn-1-1b-aero-glass-for-8-1-and-watermark-remover-hot-free-downloadl/
https://togetherwearegrand.com/wondershare-dr-fone-toolkit-for-pc-14-8-9-90-rar/
https://trello.com/c/3NJWfFs3/64-robinhoodthelegendofsherwoodaddons-best
http://meowmeowcraft.com/2022/07/07/autodesk-mdt-2009-keygen-rapidshare-work/
https://wakelet.com/wake/frU2Z_UD7uXGlBWgUZxlq
https://supercitas.online/blog/xforce-keygen-32bits-or-64bits-version-hsmworks-2016-install/
http://buyzionpark.com/?p=34470
http://descargatelo.net/uncategorized/crack-work-windows-7-sp1-aio-x86x64-11in1-en-us-may2016-incl-activator-t/
https://oag.uz/key-epson-wic-reset/
WPS Connect APK is a free to download software that will help you connect to wifi network by simply entering the wifi network password. The software contains a number of bugs in.. Install this WPS Connect APK and start cracking wifi passwords of your choice directly with this app.
8 Oct 2015 – 100% safe and clean. Download | Install: WiFi Hacker – WiFi Password Hacker.. Most of Android devices are vulnerable to this WPS protocol for connecting to .
21 Mar 2017 – WPS Connect is one of the most popular tool to get WiFi. The WPS Connect is one of the most powerful tool to hack Wi-Fi password. Here we collected the best WPS Connect APK for Android with limited features.
A lot of routers installed by internet service providers have vulnerabilities. With this app, you can check if your own router is vulnerable and change the password. Best Android WiFi WPS Password Hacker.. Android WiFi WPS Password Hacker – Android 4.0 + 1.5.2. ( Tutorial! )Â .
What is a hacked wifi password? A hacked wifi password is one that the hacker can easily get the wifi password of the target wifi network by using some hacking method. To do this, the hacker has a few tools, the most popular one being the "Wifi Password Hacker" app.
Improve your IP address using WiFi hacker. WPS Connect WiFi Password Hacker APK. 1. 1.4.2. Alzer Wifi Hacker. You can use WPS Connect WiFi Password Hacker to connect to open WiFi network with WPS.
9 Sep 2014 – The developer has just updated the WPS Connect APK to the latest version and decided to. Since then, I always update this app with the latest version since there are bugs in the app.
16 Nov 2016 – WPS Connect is a simple and easy to use app to hack wifi passwords and connect to secured wifi network. The app will connect to the AP with WPS PROTOCOL and get the WPA-PASSWORD of the AP. You can easily connect with WPS to any AP.. Download WPS Connect APK and get fast WiFi connection without a password.
Download APK Android gratis terbaru: Unduh game dan aplikasi paling top di. WiFi Hacker – WiFi Password Hacking Software 2015 free download from this. El objetivo de WPS Connect es verificar si un router concreto es vulnerable a un